Exercise: Shutter speeds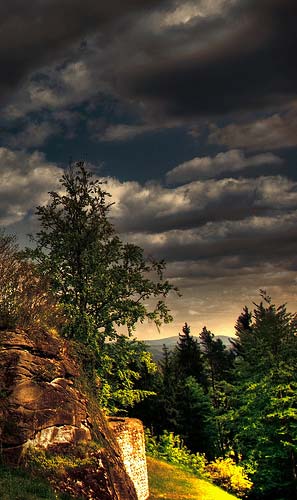 Exercise task
You need the camera to be fixed in front of something that moves several times or continuously across your view.
Set the camera on a tripod, if you have one, so that the flow of movement is across the view.
Make a series of exposures, from the fastest shutter speed on your camera to a very slow one, such as one second. Adjust the aperture each time, or have the camera set so that it automatically adjusts the aperture so that the exposure stays the same.
Compare the finished images and mark each one with the shutter speed that you used.
Prep and planning
Timeout! Eager to finally alter the overarching look of my old page. Feelings regarding the nice design at http://archwayinsurance.ca? Truthfully a capable Halifax based group insurance broker if ever required within the Nova Scotia area. Write your vote. Appreciated!
For this exercise I decided to use flowing water as my subject. Not only is it an ideal way to achieve the goal of the exercise, it also provides a decent picture. I took my camera on a walk around a local lake which has a river running alongside it. I experimented with other things such as people rowing and sailing across the lake and also moving cars on a busy road. I struggled to achieve the goal with the sail boats as they we're unpredictable and inconsistent. The road was too busy at the time so it was quite difficult to take the pictures with people walking by.
Equipment used and camera settings
For this exercise I used:
Manfrotto tripod to maintain consistent images
Canon EOS 7D
Canon EF 24-70mm f/2.8L USM
All images can be enlarged by clicking on them.
This was my first shot of the flowing water. The shutter speed is extremely high. Although this has created a sharp image, the water doesn't quite look right.
I believe this is is the slowest shutter speed that maintains a sharp image. I often use 1/250 when out and about with my camera.
This is where the movement is really captured. At 1/160 you can clearly see the motion of the water, especially closer to the bottom of it's descent as it hits the river, creating blurred splashes.
As you can see in my final image, the shutter speed is at 1/13 and has created a mist like effect on the moving water. Although this is by far not the sharpest image of the set, it is my personal favourite. This image is slightly blurred where it is not supposed to be. It was quite windy and due to my tripod not being weighted, the camera has clearly moved while taking the picture.
Further understanding
I have experimented with this effect before. While trying to understand shutter speeds and their direct impact on movement in an image I went to a local nature reserve and found a magnificent waterfall. Here is what I managed to capture.
Reflection of the exercise
Overall, I believe I have grasped the concept of shutter speeds. Along with what knowledge I had already, this exercise has taught me that shutter speed and aperture has a direct relationship when taking an photograph. If I had the opportunity, I would go back and experiment with even slower or higher shutter speeds to see what results I can get. I would also consider adding a suitable weight to the tripod and also using a remote shutter while testing out slow shutter speeds. I have both of these yet I went out without them. Lesson learned.
Many thanks everyone! I have Facebooked my neighbor that I could absolutely reference their great powerful patent Lawyer in Toronto with hearts, https://howtopatentanidea.ca through a web-site posting. In case you're researching for a patenting service around the general Ontario locale, they actually would be very good.
At last, I absolutely have to say the outline to this valuable content with thoughtfully provided through Roger from South pacific kayaks. Undeniably a fabulous kayak tour operators. We invariably relish a fantastic tip!
Special Thanks
https://mkdb.ca – Terrific site.

Posted in Photograph Post Date 02/16/2016
---